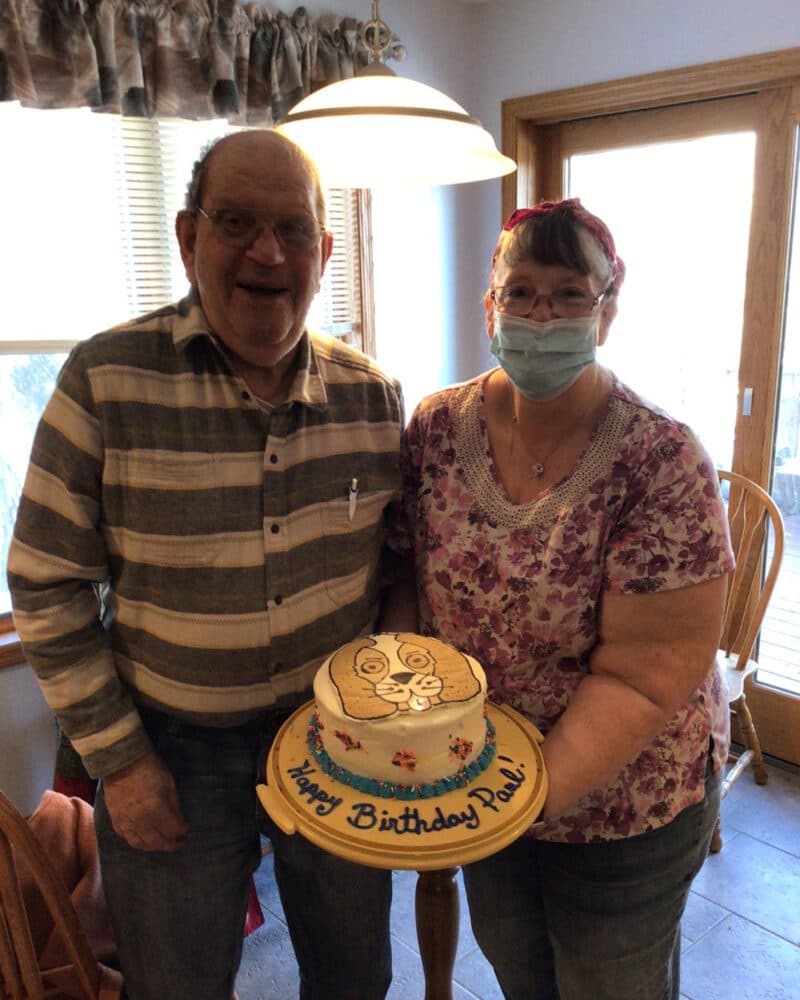 "Hey! I remember you! You used to decorate the cakes!"
Jean had just started her first shift that morning, going through training and orientation at HCO's 142 program. She thought this would be her first time meeting most of the individuals she would be supporting, but it turns out she was wrong. One of the individuals used to work with Jean at Econo Foods. He remembered seeing her working in the bakery and was always impressed by the beautiful sweets and treats she would create. Now, he gets to relive those delicious memories again.
Jean was hired at HCO in September of last year. She was looking to get out of the formal food service business and be able to focus on her own cottage bakery, but wanted some stable work as well. Her son, Shawn, used to work with the folks at 142 years ago before he moved to California and she thought she might give it a shot. Six months later, she has formed strong relationships with the men, sharing a strong bond over their love of cake and confectionaries.
So far, she has made three birthday cakes for the gentlemen at her program as they've circled around the sun over the last half a year. When asked if she only bakes for them, she said, "Oh, I would make them for anyone if they asked."
Cakes are her self-professed specialty as she likes the creativity the medium allows. She likes to get the individuals involved, stating, "One of the individuals mixed the color for the frosting. He was afraid to mix the cake batter and do the decorating, so he picked out the colors and then mixed them – a little bit of this one, a little bit of that one. I'm making one next week for an individual, and I think he's really going to get in there."
Jean's love of baking started early, or, "I've been baking since forever," in her words. Her mother didn't bake much, but her grandma did, and when she took Home Economics in 7th and 8th, grade it ignited her passion. She would watch her grandmother make all of the little rose petals for birthday cakes, put them together on each finger, and then place them on the cake. She's learned a few tricks throughout her culinary journey, though, saying about the rose petals, "My way is easier."
Jean described her process, starting by asking what flavor they would like and then looking up a recipe together. Next, they talk about decorations. One individual wanted a dog, so they drew a picture of a dog on paper, then they went back and forth about the features – tongue hanging out or no tongue, floppy ears or pointy ears – to really personalize it. "Then we talk about coloring," she says, cutting herself off before explaining with a sly smile, "I don't want to go in to the next step because it's kind of my personal secret." Jean says that she also makes wedding cakes that can get pretty detailed. Without a hint of arrogance, just humble confidence in her craft, "I can make just about anything," she concedes.
The folks at 142 are happy to welcome her into their home and enjoy having such an accomplished baker in the house. Asked about why she does it, she said, "I just like having fun with it. The kids would come over, and I'd just put out a bunch of frosting and some cupcakes and let them have fun. I've gone into nursing homes and helped them do cake decorating. A neighbor kid would come over and say "I want a dragon!" and I'd work with them to make a dragon cake."
HCO is now among the many blessed recipients of Jean's creativity and craft. When pressed on her favorite cake, she said, "vanilla or white cake, with buttercream frosting" if anyone is looking for a way to return her kindness.