Cedar Paulson Mueller was married last October. She met her future husband when she was in high school and working part-time at Fleet Farm. "I don't know how he fell for me when I was wearing that orange shirt!" Cedar jokes.
Originally from Cochrane, Wisconsin, Cedar grew up attending Cochrane-Fountain City Schools but graduated from Winona Senior High School. She later went on to attend Winona State University and majored in Social Work.
Her introduction to Home and Community Options came while she was taking a service learning class in high school. Her teacher suggested choosing a field that would be challenging and out of her area of experience, so Cedar chose the Developmental Achievement Center (DAC). The DAC provides coaching and job support to people with disabilities, and while there, Cedar heard a lot about HCO from the people there. Cedar thought, "Gee, how fun would it be to work with people all day long instead of just while they are at work!" so she applied to HCO in 2014 and has been here ever since.
When she began working for HCO, she provided support to four gentlemen. "It was super fun," she shared. In her years with the agency, she has supported people living in their own homes/apartments or with family and has also worked with young children. Cedar thinks that Winona seems to be unique in the fact that there are so many agencies that serve individuals with special needs. She says she talks to people from other towns and they are amazed, because they don't have such resources. One of her favorite parts of the job is getting to know the individuals and their loved ones. "What you can learn from them is so important," she says.
Cedar is currently the Primary Counselor at a program supporting a group of women with ages ranging from 23 to 91. Cedar emphasizes that the job is primarily a teaching job. Early on in her career with HCO, a coworker told Cedar, "Work yourself out of a job. Teach them so well that they don't need you anymore." Cedar teaches not only the individuals she supports, but also the new staff who come in to help. And, she says, she teaches staff how to teach, too.
When Cedar is training new staff, she always tells them to treat the individuals the way staff would like to be treated, or how they would want a family member to be treated and cared for. "Clean as if you were cleaning for your family," she tells them. If a new staff member makes a mistake, it is often because they have no experience in keeping someone else safe. It's not always super tough, she tells new staff. "It's usually smooth sailing, but there are hiccups sometimes!" Cedar says it's all about teaching, and she encourages staff to "use your resources."
Cedar feels that having empathy is an extremely important part of the job. "If you don't have empathy to start, you'll definitely gain it after working at HCO!" It's also important as a staff to find a balance between doing things for someone when they need it and encouraging them to do what they are capable of doing. "They should be allowed to do everything they can for themselves – even the kids. When you let go of control, you allow someone else to be your teacher."
Patience is helpful too – both with the people you support but also with yourself. There are times when Cedar remembers coming home frustrated. "It is something you constantly work on," Cedar says. Some days are a struggle. "Other days, I come home from work and say, 'I did really well today!'"
COVID has made life for those she supports very different. Since they have a few people at a higher risk if they were to contract COVID-19, it is essential to be cautious and take extensive measures to ensure their safety. The staff understand that the ladies' safety is important and are doing as much as they can to reduce the risk. They eat meals at different times, sanitize high touch surfaces often, frequently wash their hands, and they all wear masks – even the ladies. "It has been a challenge at times."
Everyone is currently home and trying to stay busy. The women Cedar supports are not currently working, so they do a lot of crafts in their spare time. Some ladies enjoy their alone time watching TV, playing games, or being on their computers. They talk to friends on the phone and participate in zoom activities. Like everyone, the ladies are sometimes bummed that so many events and activities are cancelled. While they aren't going out and doing as many things like they used to, they understand the importance of being safe and healthy.
Cedar emphasizes that they are all part of a team and that part of the job is making sure everyone is safe – both individuals and coworkers. Cedar has been exposed to coworkers that have tested positive twice. "Both times I freaked out a bit," she says. "I am pregnant, so I am considered high risk because they are not sure how the virus can (or if it does) affect the baby. The first time I was exposed, I was only about 10 weeks. More recently, I have been 30+ weeks, so the stress for me hasn't gotten any better," she shared. "Overall, HCO has handled the positive cases well. Each time, I received a phone call from our Executive Director explaining the situation and assessing my exposure level." Data surrounding COVID-19 is constantly changing as more information is being learned about the virus, so HCO works closely with the Minnesota Department of Health to interview and assess exposures of staff and the individuals HCO supports. This enables HCO to continually assess the infection control practices at their residential sites, develop improved protocols, and provide additional staff training if needed.
Adequate staffing was an ongoing challenge for HCO before the pandemic, and the struggle has only been exacerbated by COVID-19. When someone is being tested and they have symptoms, they are not able to work until their test results come back. The care needs of those HCO serves haven't lessened and it can be a struggle for many HCO programs to find alternative support when a scheduled staff cannot come in to work due to illness or a potential exposure. Luckily, current employees have been very understanding, flexible, and willing to pick up additional shifts to help – often at the last minute. "Our house has done well and staff have been more than willing to pick up their co-workers' hours, Cedar shares. "We are so grateful for our fantastic bunch of staff we have."
For staff, getting to know the people you support is the key to providing high quality care. Knowing people's interests is important to helping them enjoy life, but knowing what they struggle with or dislike can be just as important. "Sometimes jokes and a good laugh will improve everyone's mood, but other times, it might take having some one-on-one time with an individual who is struggling." Cedar will often spend time with an individual one-on-one to chat and provide encouragement, or offer a bubble bath. The house has a big walk-in tub, and all the women love a bubble bath. "We all have cranky days," Cedar says. "Usually everything can be fixed or talked out. Everyone is different."
Despite all the changes because of COVID-19, Cedar shares that the best part of the job is working with the individuals day-to-day and seeing what brings them joy or makes them laugh. "I wish more people knew about HCO," she says. "We do a lot of amazing things. The world would look very different if more people understood just how much we are all capable of."
---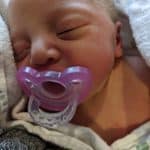 HCO warmly congratulates Cedar and her husband, Dylan, on the recent birth of their baby girl, Birdie!