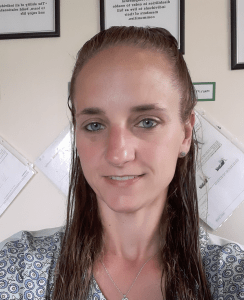 Crystal Pagel joined Home and Community Options as a part-time employee about six years ago.
Crystal came to HCO from the Developmental Achievement Center (DAC). Crystal had previously worked in various manufacturing jobs and was looking for something more engaging. In her four years at DAC, she had become familiar with HCO and thought it sounded like a job she would enjoy. Now she can't imagine working anywhere else. Finding DAC and HCO helped her discover her own talents and enabled her to help others hone theirs. When the pandemic hit, she was working at DAC between her HCO shifts, and also worked for Global Home Health. Now, she continues at Global and is also working at Cardinal of Minnesota in addition to her work with HCO.
Crystal grew up in Winona and has a lot of extended family living here. She has two children, a son, 17, and a daughter, 22. Her daughter lives on her own in Winona and her son goes to Winona Senior High. When schools closed due to the pandemic, he began studying online from home and did quite well. At home, Crystal and her family care for a menagerie of exotic pets: a rabbit, a leopard gecko, frog, parakeet, and two aquariums: one 70 gallons, and the other 20 gallons. Luckily, she has been able to pursue her outdoor interests during the pandemic. In her spare time Crystal likes to kayak, bike, take the boat out, go tubing, camping, fishing, hiking, walking, and running.
When she first started at HCO, Crystal was also on call at HCO's first remote-monitoring home, so when the position of Program Coordinator at the remote-monitoring program opened up, Crystal moved there. Conversations about creating a remote monitoring program began in 2008 or 2009. While not perhaps prepared to live entirely independently, HCO believed that there were individuals at a few of the homes who had built strong skills and may no longer need support 24 hours a day. They would be able to spend the night at home without constant staff on-site, and HCO wanted to find a system that would support these individuals from afar to enable them to be more independent. As one individual living in the home said at the time, "I don't need to be babysat!"
When searching for the right system, HCO discovered that one did not exist with the features that they needed, so they decided to develop it themselves. If a person living at one site calls for help over the system, help is provided by staff at another site. All of the individuals living in the home, as well as their guardians, must agree to using the system. They are required to learn how the system works, when to use it, and when not to.
Remote monitoring technology is now being used in three HCO homes. The system is specific to the needs of the individuals in the home and is implemented in locations where HCO finds the additional technology to be safe and beneficial to those living there. It is rare for anyone to push the button to call for help, but Crystal says that the men she supports like the system. They feel that they are being trusted with extra responsibility and are proud that they have developed the skills that enable them to use it.
Staff used to come in early in the morning to get everyone ready for work, then come back mid-afternoon when the men arrived home to provide support into the evening hours. Due to the pandemic, the schedule has changed and the four men that Crystal supports have not been working during the day. The program supervisor is currently on-site full time (instead of also splitting time at another site), and additional staff have been added as well. With people home most of the day, Crystal has been helping the men in the house cook, clean, and create menus, as well as assisting them with many other aspects of their lives. Crystal's job also includes training staff to complete required paperwork and data-tracking, helping the men with personal hygiene, household chores, budgeting, and planning activities. She enjoys watching them grow in their abilities, and she sees constant improvement as they build independence and create new relationships.
Before COVID-19, staff would take the men to events in the community like church on Sundays, COMPASS bowling, dances, and trips to the YMCA. Now, the men can still attend church on ZOOM, as well as ZOOM with friends and family, and take advantage of the virtual programs and activities offered by HCO, such as exercising and games.
All of the gentleman that Crystal supports are currently in the process of returning to work and are eager to get back to their former routine. "They would like to have more things to do in the community," she shares, "but they realize that they are not alone in wishing that the pandemic would go away and businesses would open up again." Until then, the men are keeping busy with crafts, sidewalk chalk art, rides in the house van, campfires at the house and at the HCO campsite at Prairie Island, or playing cards and games in their spare time. They also mow the lawn, go golfing, grill out, and are enjoying the warm summer days.
Crystal loves both the staff she works with and the individuals she supports. "HCO is a great place to work with caring, hardworking people who take their jobs seriously," Crystal says, "and with individuals who can always make you smile – even when you've had a bad day."