Kate Elberson, Support Staff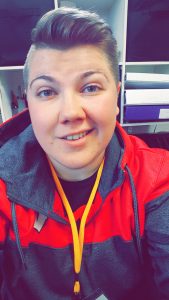 It was the spring of 2014, I was a sophomore in college and was looking for a new job to challenge myself. My best friend told me about the place she had started working at called HCO and told me I should apply. I had some experience working with people with disabilities in my neighborhood back home, so I figured I would give it a shot. By the end of the week, I had a job with HCO as a Direct Support Professional.
Within a few short months, I fell in love with my work and the four (now 5) gentlemen I worked for. A job that started as a part-time gig, turned into a real passion. My guys taught me so much about what it meant to care for others. So, when the chance came to excel further in the form of a promotion at another program, I felt like I had yet another opportunity to challenge myself. The transition was crazy and sometimes chaotic, but I caught on quickly and settled in to my new role. Now I work with 27 exceptional young adults, varying in age from 15 to 41, and one special lady who's 71. We work with a range of disabilities from autism spectrum disorder to fetal alcohol syndrome, epilepsy and psychotic disorder. My work has challenged me in that it hasn't just made me a better person to serve others – it has made me a better person to serve myself. The stresses I have encountered through this job have allowed me to discover healthy coping skills for myself that I will transfer in every aspect of my life moving forward.
When I'm not at work, I like spending time with my friends and my two cats. I'm a huge Packer fan (I'm from Milwaukee – it's not my fault) so I love watching and attending games whenever the opportunity arises. I love to travel and have been to several countries, including the UK, France, Ireland, and Thailand. I also like going to concerts and shows, mostly hip-hop and punk rock. I have ambitions to complete my masters in Occupational Therapy, which I plan to enroll in soon.