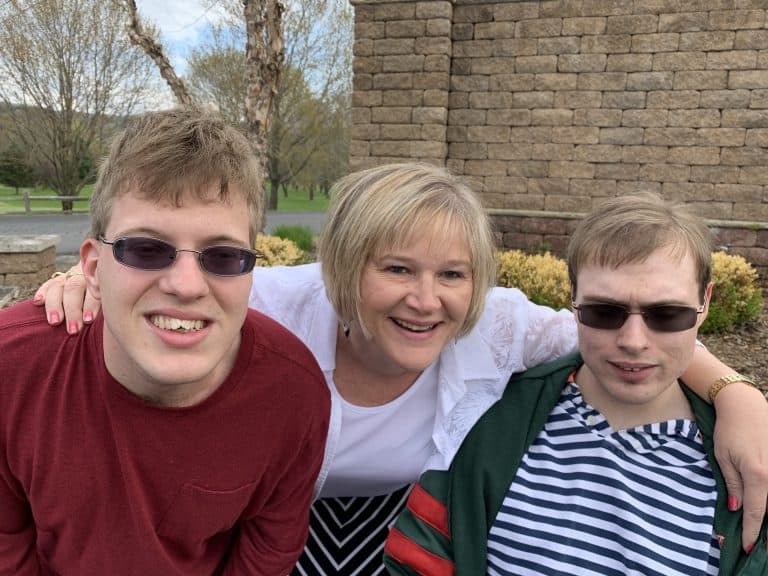 Bryce and Brady Bosteter were born on Halloween of 1996, weighing only a little over two pounds each, after only 26 1/2 weeks in the womb. They spent the next three months in the NICU in La Crosse and came home in January with many medical issues yet to be addressed.
Once home, they were on constant monitors. As preemies, they had trouble with their suck-swallow-breathe sequence and sometimes had to be tube fed if they tired while feeding from the bottle and couldn't get enough nutrition. As you can imagine, their care was a time and energy intensive undertaking.
Brady was diagnosed with Cerebral Palsy at the age of one. It affects him mainly from the waist down, and doctors told his mother, Denise Herber, that he would never walk. Doctors underestimated both Brady and his mother, however, and he now walks with a walker and also uses a wheelchair.
Accompanying Brady's CP was spasticity in his lower extremities, causing severe muscle tightness. Denise, who says she is the kind of person who has to know all about a problem and then looks for a solution, read about a Dr. Park at Children's Hospital in St. Louis who was relieving spasticity with a rhizotomy, a neurological surgery that selectively turns off the nerve roots causing the problem. Denise and her mother, Dawn Singer, drove Brady to St. Louis and stayed there for the surgery and care, while Denise's husband cared for Bryce at home. The surgery was successful and allows Brady more mobility.
His twin brother, Bryce, was born with hydrocephalus and developed seizures. Doctors told Denise that he would never walk, talk, or see. His hydrocephalus had to be relieved with a shunt, and his seizures have been successfully treated with medication. According to Denise, once he started talking "he never stopped," and he is very social. He wears thick glasses and is legally blind, but is able to see enough to lead a fairly active life, shooting baskets, and golfing with his parents at Westfield, where he has a membership and is a favorite of some of the older golfers.
Denise's life was a cycle of caring for the twins at home, addressing their medical issues with myriad doctor appointments and therapies, as well as being an advocate for the boys. She was divorced in the twins' first year and was fortunate to have her mother living nearby. Her job as the Senior Accounting Officer for the City of Goodview allowed her to make up hours on nights and weekends. Childcare was a perennial and vexing nightmare because so few child care providers were able to successfully care for the twins and their many challenges. Denise says she always thought she was so busy with the twins that she didn't take time to enjoy them, a common thought among mothers of kids with all levels of abilities, but magnified in her situation. However, she describes the boys as being very affectionate and loving.
Help came when the boys were about three years old, when Brady was diagnosed with autism. Because of the boys' many medical issues, Winona County Human Services assessed their needs on a quarterly basis. It was through the county that Denise became aware of the services offered through HCO. At first, HCO provided staff who could go to Denise's house and watch the twins so Denise could do laundry or work one on one with a twin. Shortly thereafter, Brady began to receive respite care at HCO's house on Broadway.
It was there that Denise and Brady met Sarah Haines, who worked on autism issues with Brady and fed Denise's appetite to know everything she could find out about autism and the other problems her twins were facing. Denise also did research herself, needing to "know what it means" to have autism and what to do about it. She mentions, gratefully, the help she received in that regard from Mary Jansen and Denny Theede at HCO and from ARC Minnesota.
At about the same time, the twins entered preschool at Lincoln Elementary, and Bryce was able to go to Key Kids after school.
Denise remarried when the boys were four, and her husband, Dave, was willing to share responsibility for their care.
Brady spent three years in preschool and Bryce two years. They then went on to kindergarten and elementary school at Madison Elementary, where they were mainstreamed in music, art, and physical education. They continued on at the Middle School and then Winona Senior High, where they graduated. Denise expresses her appreciation for the Winona community and their acceptance of Brady and Bryce. "They were never picked on," she says, and credits HCO for educating the entire community on the issue of disabilities.
At one point, Denise and her mother looked into a facility for Brady who was experiencing many behavioral problems. They toured a place in Red Wing, and both felt overwhelmed with the thought of the boys in such a place, and they never returned.
When Denise was no longer able to lift him out of his wheelchair, Brady, at age 17, moved to a residential home in La Crescent, where he stayed for three years. Denise hated having him so far away, so when there was an opening, he moved to an HCO home where he is really thriving.
Bryce also moved to an HCO home earlier this year.  Since the two homes get together frequently for dinner and activities, the boys see each other often. They like their independence, their housemates, and their activities. "It's a joy to be with them," says Denise, and they live only a matter of blocks away from their parents.
Brady, in addition to swimming, participates in adaptive bowling. He loves music, Keith Urban being a favorite. Denise says that is a great improvement over his affection as a child for Barney! (She even took the boys to a Barney concert!) He also likes to draw and watch movies. Denise says she is continually amazed that Brady is now so laid back, when "it took me three years to teach him how to use a fork, and he would be so frustrated with foods he didn't like that he would throw his food."
Bryce also swims, bowls, goes to movies, and has been involved in the HCO musical.  He has also been invited to sing the National Anthem at all sorts of events:  WSU Homecoming, Rollingstone Days, Special Olympics, and the WSU Holiday Basketball Tournament. He likes to help out with Brady, hang out with housemates, and is noticing girls.
Denise is an avid advocate for HCO and has had the opportunity to talk to legislators about the work that HCO does in supporting the disabled in the community. Her affection for HCO is many-fold, but she cites the fact that they are located in the community, near to families, are so well-managed, and are able to help families keep their loved ones close, while giving them the structure and services they need to lead healthy, happy lives.
It takes many hearts and hands to give Brady and Bryce a good life, and Denise credits HCO, as well as her mother and husband (her "sounding boards") with giving the twins, and her, the help they need.