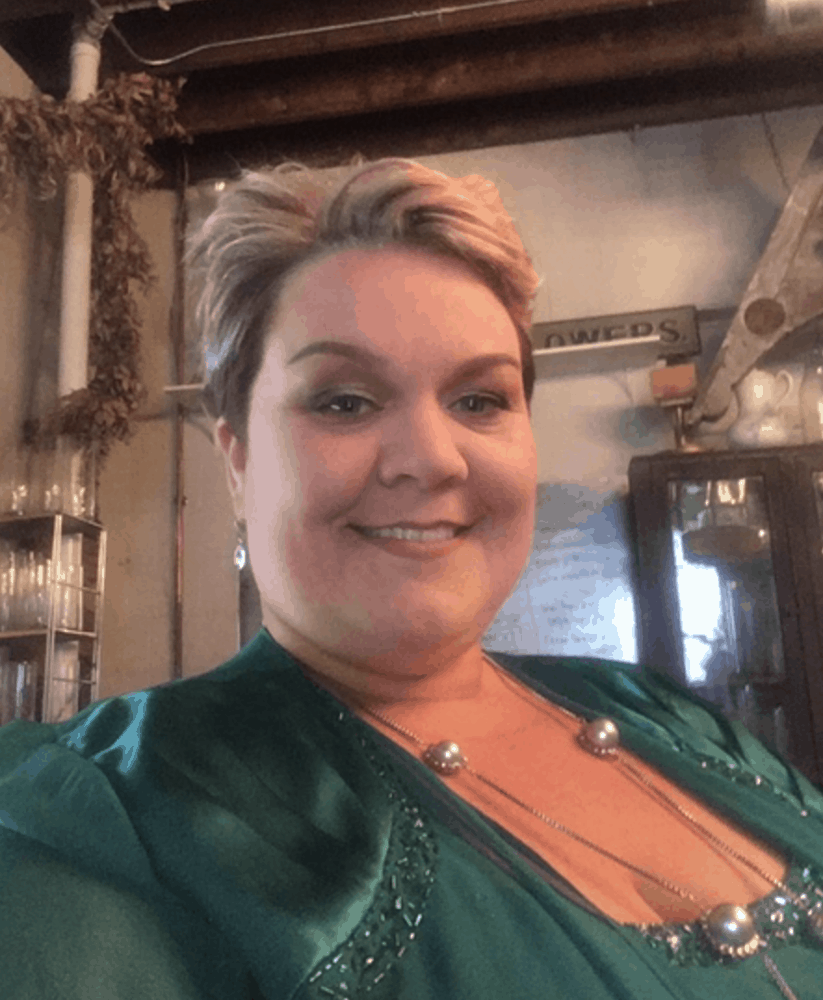 When you meet Shelby Hoff, your first impression is, "Here's a person I can talk to." It seems natural that she gravitated to HCO. She is friendly and warm, and is genuinely pleased to get to know everyone she meets.
Shelby is the Coordinator of HCO's Saehler program, where 35 staff members serve 27 individuals. Saehler isn't a residential program, Shelby explains. Although up to 4 individuals can stay overnight, it's more of a "home away from home," where people can socialize, learn how to interact with others, respect boundaries, and prepare for the future. Individuals in the program are usually living at home, and Saehler acts as a stepping stone for possible eventual moves to independent living, or to join one of the residential programs.
The first round of people that receive services from the Saehler program typically come at 7:30 a.m. with the last individuals heading home around 9 p.m. Staff primarily work with individuals on independent living skills that are tailored to each person's needs. Days are spent learning how to cook, manage money, perhaps prepare for a driver's license, learn how to ride the bus alone, how to make purchases, or how to advocate for themselves. Staff can help with a myriad of things on a sporadic basis, too, such as getting to appointments.
At Saehler, there are no preconceived ideas and no strict timelines for making the next big step in life, but the possibility is always included in the program's planning with individuals. Between one and five days a week, anywhere from 10 and 13 individuals are at Saehler at a time and often eat meals together. Shelby says that staff help individuals discover what they want next in life, which she describes as a crucial step of adulthood. She says that often she will meet individuals and think, "I know there's a 'voice' in there," and it is HCO's job to help them find their voices.
Shelby is a returning HCO staffer. She first came to the agency when, in 1997, she was working as an aide in a nursing home and confided to a friend that she would really like a job where she could focus more on the individual than on the routine. Her friend immediately suggested HCO. Shelby interviewed with Mary Jansen and was hired right away. She says that working at HCO helped her grow up.
"I had no direction," she recalls, but felt more grounded when she learned about HCO's mission and vision. She says that her job at HCO is "one of the first jobs I've had where I wasn't trying to find ways not to come to work!"
She stayed at HCO until 2007, when she went back to college at WSU, thinking that she needed something "more." After graduating with a paralegal degree, Shelby went to work in a law firm, but quickly learned that the reality of being a paralegal did not satisfy her. She was interested in advocacy and learning the law, but was not finding that opportunity in a lawyer's office. She also realized that she valued a family atmosphere and didn't find that there either.
It became increasingly apparent that Shelby's career as a paralegal was not satisfying her as much as she hoped. Finally, her husband, Mark, who also works for HCO, and her mother both suggested to her that she had seemed happiest in her life when she was working for HCO. It didn't take much prodding, and Shelby quit the law firm and called HCO to come back to work. She was assigned to Saehler, and shortly after was named Coordinator of the program.
Shelby's philosophy of life is much more in tune with HCO's mission, vision, and core values than with her former job, but she doesn't regret taking time out to get her college degree. Her experience at WSU taught her how to hone her writing and listening skills and to become involved in the community. "It rounds you, makes you smarter about a lot of things," she says.
It's obvious that Shelby loves her job. She says she really likes managing a program, talking with staff, and being a mentor. When hiring, she looks for people with a warm personality and a professional nature, because at Saehler, staff are often looked upon as role models for those they are supporting. "It is great seeing new staff, who may have come to HCO with a blasé attitude, suddenly discover the beauty and fulfillment in working with people at Saehler," she says. Some staff even change their majors to human services professions after being at HCO. She feels that staff at Saehler tend to stay long-term, and right now she has three staff who have been there 10 years.
There are aspects of the job that Shelby finds challenging and frustrating, mostly having to do with state regulations and funding. For the most part, though, she finds a great deal of fulfillment at HCO. She loves seeing the growth in the individuals who are part of the Saehler program, encouraging them to advocate for themselves, and finding out what they want from life.
Shelby describes Saehler as a community within a community. "HCO is all about learning. I learn from the individuals I work with here more than they learn from me," she says. She also says she wants her own children (she and her husband have four) to learn what she has from HCO, to be compassionate and welcoming of all people they come into contact with.