Paul is a self-assured man who is thoroughly enjoying his retirement years, which he describes vividly as very busy and happy. Paulie – as he was called as a younger man – grew up on his grandparents' farm. The work on the farm was hard, but ultimately rewarding.
Paul can do (and has done) "everything" on a farm. His grandfather had six big Belgian horses, which they used to cultivate the soil, cut hay, and other big tasks around the farm. Paul trained the horses, raised the colts, and even kept a couple of mares. Paul also had a black and white horse named Pal. Prior to being Paul's horse, Pal was trained as a jumper. One instance when Paul was riding him, they approached a gate and as Paul was going to dismount to open it, Pal took it into his head to just jump right over it! "It scared the devil out of me," Paul laughed. He had a heck of a time convincing his grandfather that it really happened! To this day, Paul loves to go to horse shows at the Equestrian Center, and one of the highlights of his life is attending long weekends at the rodeo in the Twin Cities.
Read Entire Article
Paul's family raised more than just horses. They had sheep, pigs, and lambs – which at times needed to be bottle fed. Paul had to get the sheep ready to be shorn, which involved removing all the dirt and "stickers" from the wool. His hands were so soft from all of the lanolin in the wool that by the time he was done, he thought they felt like dish rags. Once the sheep were shorn, the little lambs often couldn't identify their mothers right away and would wander around crying "baaa, baaa!"
Paul and his grandparents also raised geese, which he was not fond of at all. "The old gander would go after me and go after the back of my ankles with his wings," Paul said. "And geese have a big wingspan!" When they bought chicks to raise on the farm, it was Paul's job to make sure the heater on the chicks' cage didn't go out during the cold nights.
Paul also had a dog, a German Shepherd named Teddy, which he got when the dog was six weeks old. Teddy was pretty much a one-man dog, and once when Paul's grandparents went to town, Teddy broke his chain and went after the milkman, who had to jump on top of his truck. It took some doing to corral Teddy and save the milkman!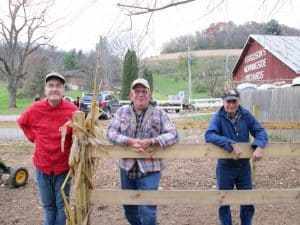 After his grandparents and mother passed away, Paul met an amazing man named Joe Morse. Joe assisted Paul in receiving services from Home and Community Options, and he now lives in one of HCO's residential programs.
The farm's garden was a place Paul really enjoyed. Even now, he is the gardener at his HCO home on Garvin Heights, although the size of the garden is not as big. Paul likes to do yard work, water, weed, and plant flowers. Frustrated by the hungry deer that eat his flowers, he now plants marigolds which the deer don't seem to like as much. Paul lives with four other men, including his friend Steve, who grew up on an adjacent farm and who Paul has known since they were both very young. Paul gets up at 5 a.m. each morning and cooks breakfast for the house, which includes eggs and raw fries. "They eat them all up!" he says.
During the week, he goes to the Benedictine Day Center, where he socializes, plays bingo, and now and then goes gambling at the casino near Red Wing. At Benedictine, Paul says he has a "big friend in Tom Severson," a volunteer who he plays games and talks with there. He also takes trips to the Eagle Center, Owl Center, and apple orchards in the fall. Sometimes he takes a Thursday or Friday off from Benedictine to relax, work in his garden, or maybe go out to dinner. According to Paul, it's a great life in his HCO home.