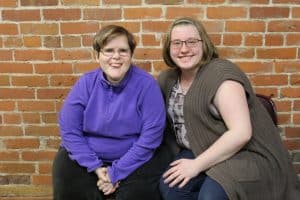 My name is Jenna Rae Eastman, and I am a full-time Primary Counselor in one of Home and Community Option's Residential Programs. HCO has played an integral role in shaping my life path and my career. I started as an unpaid intern, and was quickly hired on due to my enthusiasm for the job. Before long, I was able to pursue a paid internship in order to complete my degree in social work. Through HCO I have had the opportunity to work with individuals with developmental disabilities as young as 2, and as old as 80, which speaks to the diversity of services and quality of care provided here.
In contrast to nursing homes, which cost thousands more, HCO is able to provide more comprehensive and individualized services to meet the needs of the people. CNA's in most nursing homes are not qualified to administer medications unless specifically trained as Medication Aids. Alternatively, at Home and Community Options, our trained staff of professionals are qualified to administer medications both orally and rectally, In addition, our staff are qualified to pass and monitor controlled medications such as morphine, unheard of in area facilities. Go to any facility in the area, and these procedures are far more likely to be handled by RNA's or LPN's passing medications to 20+ individuals, at a higher pay grade, more costly service model, and less personable service.
Why do I stay rather than heading to one of these facilities? By and far, it is the people I support who make the job worthwhile. I knew of Tasha long before I actually worked with her. Hers is a vibrant and headstrong personality, her dedication to hard work a reflection of her childhood on a farm. When I started my full time role working in her home, I knew that it would take time and dedication to create a trusting relationship with her. When I met her, she had a hip to calf knee brace that caused her an enormous amount of physical and psychological pain. When her doctor noted that knee surgery could be an option, I immediately knew that was what Tasha needed to be her most independent and happy self. Our plan was to have her stay at the residence to recover, as her time in the nursing home after her accident had been lonely and filled with food bribes due to lack of appropriate person centered support systems in place. Tasha has a strong personality, and needs someone who both acknowledges it and can guide her to using it for the right reasons.
There came a point in her recovery where she was in the absolute most amount of pain that I have ever seen a person in. For a time, she refused to get up and walk for us, and if she were to continue to do so, she would need to move to a nursing home where she could be monitored for risk of blood clots. I explained to her that it was time to get up, and that if she wanted to stay home she would need to start walking for us. She looked at me and said "No go to nursing home. I stay here!" She knew what to do. Sobbing with the effort it took, and the pain, she got up that day and walked for me. I smiled and held back my own tears, because she needed to know that she was doing the right thing. It was one of the most powerful moments of my career, and I will never forget the look in her eyes as she used all of her trust, her pain, and her willpower to stand with me and to stay in her home.
Along the way, I had to come to terms with giving up on some of my own hopes and dreams in order to assist others with theirs. My significant other of 7 years and I have had to come to terms that if he is not the breadwinner, no one will be. Social work – my work with HCO – pays your soul and not your pockets. In fact, between paying for college and a car, both considered necessities in most first-world countries, I do not have a buffer of income to sustain me in times of need. In a 6 week span of time that my significant other was job hunting, my formerly good credit score dropped 100 pts. At this point, I cannot get a house loan that would be affordable, and have thus had to delay further my dreams of having a home, a marriage, and children. It's supposed to be the American standard, and I cannot even afford it.
But I do what I do, gladly, because it is the right thing for my soul, and it is the right thing for the individuals I serve. I do what I do to see people like Tasha succeed in reaching their full potentials. I do what I do because HCO is invested in me, their employee, in a way that no retail or fast-food business would ever be. I am important to HCO, and Tasha and her family, and they cannot afford to lose me or others like me.